Yes, we did it!

Thanks to all of you for your support – helping me successfully achieve my goal of walking 5kms this morning.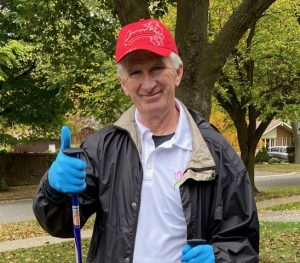 The 'WALK' was to spread awareness and raise donated funds, through the Scotiabank Charity Challenge, for the World Parkinson's Program (WPP).
On average, having walked this distance the last 3 years, I usually complete the trek in about an hour and 15 minutes. This year, as in years past, the challenge wasn't so much to better that time but more so to complete the distance safely and armed with the same tools – my timely dosage of meds, my trusty walking poles, my proper weather wear, a bladder that has taken a brief hiatus and a 'will' (constantly replenished by your support and encouragement) that fuels my confidence and efforts.
This was the first year where I didn't participate with a knee that either required replacement or was healing from a recent surgery….to start and finish this year with almost no pain, would be a real treat…
My challenge was going to be, "how long could I keep at my walking pace and reach my time/distance goal?" I ask this with the knowledge that my previous dose of Parkinson's medication (taken every day at 9am), had for the past year, shown signs of wearing off, an hour before my next dose (12 noon), as my movement symptoms would bog me down. This actually meant that my PD was progressing.
Sure enough this morning, I was walking at a very good and steady pace for most of my route – at least 3 kms. It was shortly after passing that distance that I could feel, that 'feeling' or sense it …As I took my strides and moved my walking poles in sync with the opposite legs, my left arm began to slow and would be out of sync with the swing of the right arm and strides of my legs. I tried to keep the pace with the arms swinging and the legs remaining in full stride, however, it didn't feel natural. I'm sure that, with my arms flailing out of sync, I must have looked like I was doing an air drum solo without my 'kit'.
As I made adjustments while I was walking, I gave myself an internal dose of "snap out of it" (picturing a face slap from Cher in Moonstruck) … as a recalibrate. 
Next came my left arm with a mild dose of 'work to rule', doing the bare minimum in the autonomic walking arm swing, followed by the ever-disruptive, 'Linus Blanket Drag'…no movement at all and the weakened left hand grip barely holding the pole as I'm now dragging it alongside me…
I finally stopped to gather myself and refocus on what I was trying to do. I had set out this morning to fulfill a commitment I'd made to safely WALK 5Km, raising donation funds for a charity that meant a lot to so many, including myself, the World Parkinson's Program (WPP). I'd successfully walked this route the week before as a practice trek and I'd walked shorter versions of it in the last couple of months….
Then the obvious hit me… something was brewing inside and had become an internal stress as I got further into my 'WALK'… I was physically walking this route on my own, on the sidewalk, facing oncoming traffic, with the width of the curb separating myself from the vehicles that were driving past… I wasn't walking in the same environment as I had in the past 3 years – when there were no cars in sight, with sections of the city shut down and I had been surrounded by thousands of fellow 'walkers', and good friends, not like this year, with an audience of one…
I then realized what I had to do… it meant that I had to push myself or 'will' myself through each movement it would take to get my stride and pace back, in order to reach my destination, back home. 
I would need to call on that same 'will' that I count on every day when I struggle to retrieve  anything out of my front left pocket…those of you that deal with this everyday know what I mean…You've got to actually look at where your hand is going and almost coax it into your pocket and think your way through the task of retrieving what you would normally do simultaneously, while in conversation, if not dealing with this brain disease.
Well, it worked…not immediately but after a few attempted strides, I pushed myself past what my Parkinson's had deceptively decided was my physical limitation. It meant turning my focus away from the big picture and the grand finish, for now, into a number of small challenges and eventual little victories… that would lead me to my finish line.
With each step and sync'd move of my arms and legs, I pushed myself with a concentrated thrust, past the stutter step on the balls of my feet, into a full, balanced stride, feeling my whole body engaged in the activity of walking with a focus. 
It was a splendid way to finish the charity walk and walk away with a little knowledge of what I'm capable of doing if I take the time to replenish my confidence and push myself. It also felt great, finishing with little pain in my knees – first time ever!!
If you'd like to donate to the World Parkinson's Program before the October 31st deadline, please click on the link below
About the Writer
Hello, I'm Shane McPhee – a 63-year-old, married, father of 2 grown sons, living in Toronto, Ontario. In late 2011, at the age of 54, I was diagnosed with Parkinson's. 
Since my diagnosis, I've remained physically active in group fitness programs, plus I have been involved in the Parkinson's Community as a volunteer fundraiser.  I'm a former Board member with a local Parkinson's related charity.
I have found a passion in writing, specifically telling stories, writing poems and sharing accounts of my life, while living with Parkinson's. I write and share these so that others can see what I'm going through or have experienced and how I dealt with it or learned from it – For the record, I have no medical training nor authority to offer medical advice.
I hope you will find my writing of interest, informative and when possible, a little humorous.